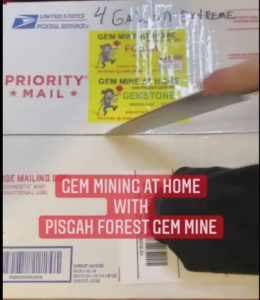 Here at Pisgah Forest Gem Mine, we know that things are getting a little sketchy at home with all of this Coronavirus Quarantine stuff going on.  We would like to offer you a way to break the boredom and have fun again as a family.
Introducing…  Gem Mining At Home.  That's right, we can send you gem mining ore right through the good old US Post Office.  Click Here to order it today and have it on your door step in about 3 days.
You can order a 1 gallon gemstone or 1 gallon fossil bag, or a 4 or 8 gallon premium size.  We recommend at least 1 gallon of mining ore per person.  All you need are a few things from around the house and you are ready to go!  Check out this video to see just how much fun you can have.
Our  bags contain gemstones and minerals and fossils from all over the world.  If you order our premium mixes, they also contain geodes, crystal clusters, fossils and more!
Break the Boredom.  Let's Go Mining…At Home!!!!