Panning is available now in our Pisgah Forest Store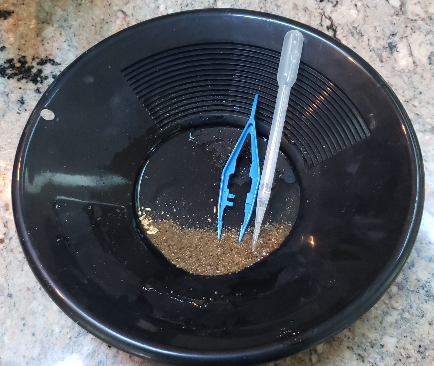 Gold Panning in the Mountains
Gold Panning is available in our Pisgah Forest Store! Be one of the first people to get to mine Real North Carolina Gold Ore! Give us a call at (828)367-8330 for More information.
New for this year, we are adding gold panning to the great things you can do here at Pisgah Forest Gem Mine. Gem mining is not the only thing to do here in Western North Carolina. Our mining is unlike anything else in the area as a matter of fact, our gold ore is dug right here in Western North Carolina
You are here where it all began!
Did you know that one of the first gold rushes happened right here in the Forge Mountains? Consequently, there are old abandoned mines dotted all across the mountain ridges. If you know how to pan for gold, you can find it in just about every mountain stream from here to Charlotte. How do you learn to do gold panning? Well, I am certainly glad you asked! We will teach you how to mine like the old timers did back in the early 1800's. As a result, you might even find your pot of gold right here at our sluice.
Come and enjoy yourself for the day
Finally, you won't be panning just any old gold ore if you give us a try. No sir! Your bag of ore came right here from the rivers and streams that run off of the tops of these gold rich mountains. Even if you don't strike it rich on the first bag, I guarantee that you will find gold, and even better, you will have a blast learning. Our trained staff will be there to show you the ropes and you will be panning for gold in just a matter of minutes.
Great Panning Resources
Here is a great site on gold panning, and a youtube video that will show you the ropes before you get here. Don't have time to check those out? No worries, we will take real good care of you!
Click here for website
Click here for video
Gold Panning PricesP
The Prospector Bag – $30
The Old Timer Bag – $90
The Motherlode Nugget Bag – $200